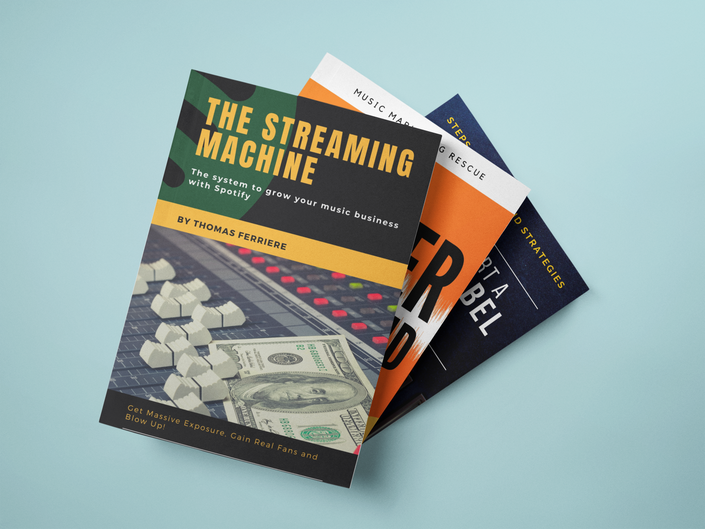 The Perfect Music Marketing Collection
All You Need To Start Or Improve Your Music Business
HOW TO USE SOCIAL MEDIA POWER TO ACHIEVE FAME AND SUCCESS IN THE MUSIC INDUSTRY!
WITHOUT STRONG BRAND, SUPER-TALENT, YEARS OF EXPERIENCE AND RICH CONNECTIONS!
? How many times have you been told to give up on your dreams because a musician is a "tough and unviable" profession?
? How many times have you doubted yourself if you are going to make it, or is it just a never-ending struggle dream?
PUT ALL THESE WORRIES AND FEARS AWAY FOR A SECOND!
You are living in the greatest era of humanity, where opportunities are endless, and it would be a big mistake for you not to use those massive resources.
WHAT OPPORTUNITIES AM I TALKING ABOUT?
Your biggest one is Social Media Marketing – confusing but super-powerful toolset that can help almost every great musician rise up.
Yes, just like in any other industry, social media is a huge opportunity to expand into the new waters and make your wildest dreams come true.
You probably already heard about most of these social media platforms:
TikTok

Snapchat

YouTube

Pinterest

Facebook

Spotify

Instagram

Apple Music

Igtv

last.Fm

Twitter

Periscope

Soundcloud

Bandcamp

Drooble

Smart Voice Devices

(Alexa, HomePod,...)

Tumblr
It's hard to describe the unlimited potential these platforms can offer.

Some of them are extremely powerful, especially for rising industry talents!
But you may ask:

WHO AM I TO TELL YOU ALL THIS?
Well, let me represent myself:
Your Instructor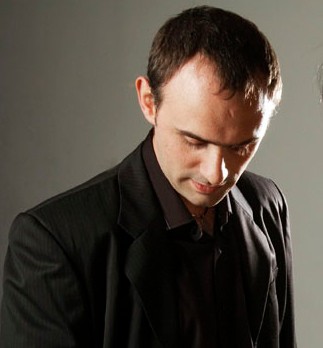 Music industry professional, former radio producer, music producer, music publisher, sound engineer, DJ, and instructor.
Granted permanent member by SACEM in 2014 for accomplishment in the music industry.
I also hold a master's certificate in the music business at the Berklee College Of Music.
During my career, I launched many music ventures and started to teach online.
I am Co-founder and CEO of a successful marketing agency in Pasadena, CA.
As we spoke before, you already realize that unless some world-famous producer hears your music from that basement, there is no way you can make it as big as you want.
CALVIN HARRIS, THE WEEKND, 5 SECOND OF SUMMER, HALSEY, CHARLIE PUTH…
All these artists reached their fame and success through social media, so why can't you?
HOW DO YOU DO THAT?
Now, I see 2 choices you can make:
#1 You now know all the platforms you can use, so you can explore them, spend your precious time and dive deep into a massive social media marketing world and try to rise up on your own, or…
#2 You can skip the line and not have to worry about any of that because I've already done all the hard work for you!
Introducing:
The Perfect Music Marketing Collection
Inside The Perfect Music Marketing Collection, You'll Receive...
★ Master Soundcloud ($7 Value)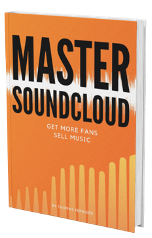 Want to promote your music online and make more money?
You need to leverage the power of SoundCloud.
SoundCloud is the largest online music community. With the right strategies, you can expose your music to millions of potential fans.
Building a loyal following is the key to realizing success in the music business. In this book, you'll learn how to grow your fan base and maximize your online sales.
Check out the latest tips for reaching a much wider audience and breaking into the music industry.


★ Social Media For Musicians ($7 Value)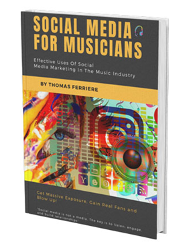 You already know that every musician needs a social media presence.
What you may not know is that this is just the beginning.
While to the outside a social media post for a music account may look like an off the cuff comment, it is often a highly-calculated business move.
You want to make sure that you do everything possible to make sure your social media presence is as impactful as possible.
With that in mind, this book covers some of the most important social media platforms for striving musicians.
It includes TikTok, YouTube, Facebook, Instagram, IGTV, Twitter, Soundcloud, Drooble, and all others mentioned in the beginning…


★ Selection of Forms and Contracts for the Music Industry ($199 Value)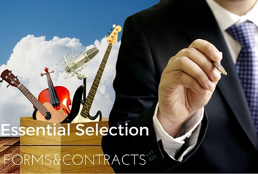 A complete selection of music business contracts (PDF and Word Doc format!).
SAVE MONEY: These forms and contracts are great to take to a lawyer and ask for updates rather than a whole doc created.
56 contracts and forms for:
ASCAP, BMI, venue booking, co-promotion, distribution, video release, invoices, licensing, marketing, Merchandising, Non-disclosure agreement, Parental consent, and many many more…
Basically, every single form you need in almost every crucial situation!
★ Twitter For Music Marketing - Video Course ($49 Value)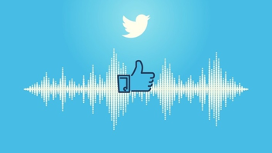 Concepts, tools, and strategies that you will need to build your fan base and promote your music via Twitter.
The course has 27+ lectures covering Twitter for music marketing.
It will take you through fan collection to advanced music promotion strategies.
Complete with working files and swipe copy.
★ Become A Profitable Musician - Video Course ($299 Value)
- OVER 2053+ DELIGHTED STUDENTS HAVE TAKEN THIS COURSE –
The only way for you to exponentially grow your music business is by building your own effective music selling system.
This course will help you build an effective music selling system with this step by step course
Here are the 5 steps to Profitable Sales Funnel inside this course:
1.) You attract the right fans on a special page on your website.
2.) They enter an email address in exchange for free music.
3.) The autoresponder sends friendly emails for a few days to build a relationship.
4.) The autoresponder sends offers to buy the music.
5.) BING >>> You've got new sales every day on autopilot. No kidding!
It's designed for anyone, regardless of experience level
It will teach you how to set up a squeeze page, where to get subscribers, and the most important, how you can monetize your mailing list while growing it!
It will also take you step by step through setting up your email gate, squeeze page, and autoresponder.
You'll learn how to find and send your new fans to your music selling system with free traffic, Facebook Ads, or Adwords.
And also, you'll get email templates WE INTERNALLY USE for engaging fans and selling music.


★Define Your Social Media Authority ($199 Value)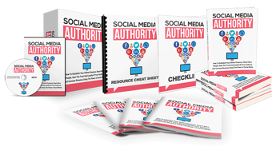 This package will be your guide for building up your social media authority across the most popular social media platforms that are found today.
You will learn how to increase your presence online.
How to automate your posts so that you can spend more time on your music.
And the actual value of this entire collection is $76, but I decided to just charge a small faction of what it is worth and take the last excuse you may have not to succeed!
And it is not going to be even $500.
Not even $200…
The final price of this amazing collection is just one $50 investment!
IS IT WORTH IT
I am not going to talk about thousands of happy and successful students I have.
I am just going to ask you this.
How much it may cost you not to take this opportunity…
IS THERE ANY GUARANTEE?
If you've got what it takes, I wouldn't be surprised if, after using The Perfect Music Marketing Collection, you'd make your money back fast. With that being said, if you are unsatisfied with your purchase, contact us in the first 30 days and we will give you a full refund.
But even if you just master and implement ONE thing, out of the entire collection, you'll be able to easily cover your $50 dollar investment.
Don't you think it's worth it to invest those $50 to see what possibilities you can experience?
Frequently Asked Questions
When does the video courses start and finish?
The courses start now and never ends! It is a completely self-paced online courses - you decide when you start and when you finish.
How long do I have access to the collection?
How does lifetime access sound? After enrolling, you have unlimited access to these products for as long as you like - across any and all devices you own.
What if I am unhappy with the collection?
We would never want you to be unhappy! If you are unsatisfied with your purchase, contact us in the first 30 days and we will give you a full refund. (Link to the contact form in the top menu)